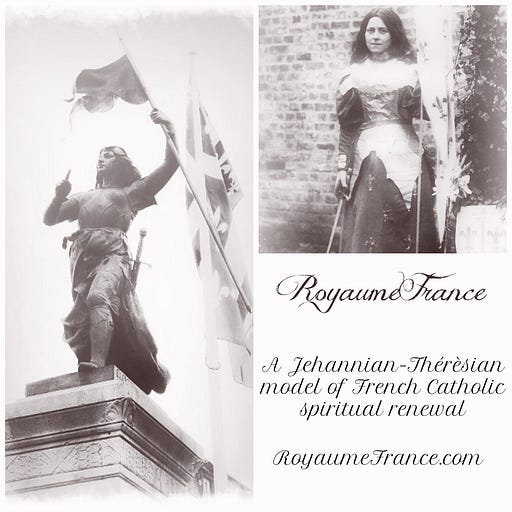 Jun 9 • 13M
S1E1-Introduction to Royaume France
A holy expression of Jehannian-Thérèsian French Catholic Spirituality
A podcast discussing my model of a holy expression of Jehannian-Thérèsian French Catholic Spirituality. Royaume France is a phenomenological journey in the company of the combined hearts of St. Joan of Arc and St. Thérèse.
---
Season 1 Episode 1
Introduction to the Royaume France model which is a phenomenology of the French Royal Hearts of St. Joan of Arc and St. Thérèse of Lisieux. St. Thérèse is my hermeneutic for understanding St. Joan. I interpret Joan through the voice of Thérèse. Through this hermeneutic I received the grace of a "divine glance", using Thérèsian terms, or an "unreflective certainty", using Edith Stein's philosophical term. The divine glance infused in me a life-long devotion to St. Joan of Arc. The Royaume France model tells this story and is the phenomenological expression of that devotion.
---
Also, join me on my website, RoyaumeFrance.us where you will find a more comprehensive and systematic description of the phenomenological model.
---
Also!

Join Amy Chase and me as we explore the spirituality of St. Joan and St. Thérèse in a separate podcast called Heroic Hearts!
---